Discussion Starter
•
#1
•
I got the call from my FFL I had been waiting for today. My Build from Lou at Business End Customs was in. The first thing I noticed from handling was how tight the fit was, and how well it was finished. I left from my FFL and headed to the range to try this bad boy out. I ran 200 Winchester White Box ball rounds and 6 Winchester PDX1s Hollow Points through it. This gun is so sweet to shoot. It runs so crisp and smooth. I wasn't shooting my best today, but it was okay because this gun can out shoot me for sure. I just ran her really hard to get everything broken in a bit. I will make another trip to the range soon and see what kind of tight groups she can produce.
This is the build list. I am 99% sure this is all correct. Lou, if I am missing something, or you have anything to add about the extra stuff you did to the gun please chime in!!
Remsport Slide and Frame with Ejector and Plunger Tube
Kart National Match Barrel
EGW Grip Screw Bushings
Caspian Ambi TS
10-8 Flat Trigger
10-8 Slide Stop
10-8 Mag Catch
10-8 U Notch Rear Sight
Smith and Alexander MSH Magwell Combo
STI Spur Hammer
EB Rebuild Kit
STI Match Grade Sear
Colt Sear Spring
Colt Disconnector
EGW Firing Pin Stop
Wolff 16lb Recoil Spring
Wilson Bullet Proof Firing Pin
EGW GI Guide Rod
EGW Hardcore Extractor
EGW Monogram Bushing and Plug
Smith and Alexander BTGS
Grips were provided by Chris at AlumaGrips
Here are some pics of the gun with some Business End Customs swag...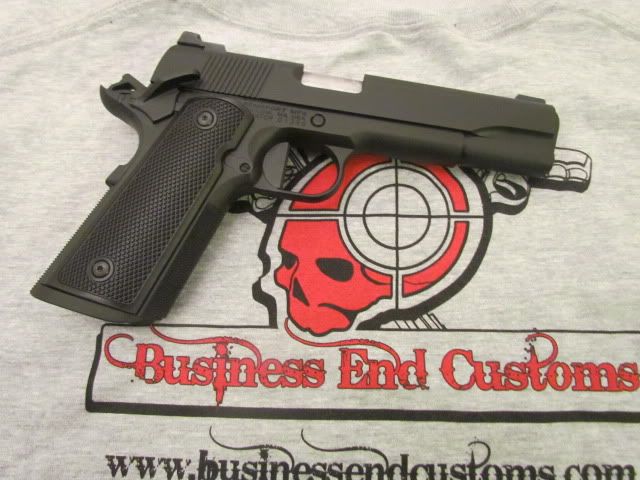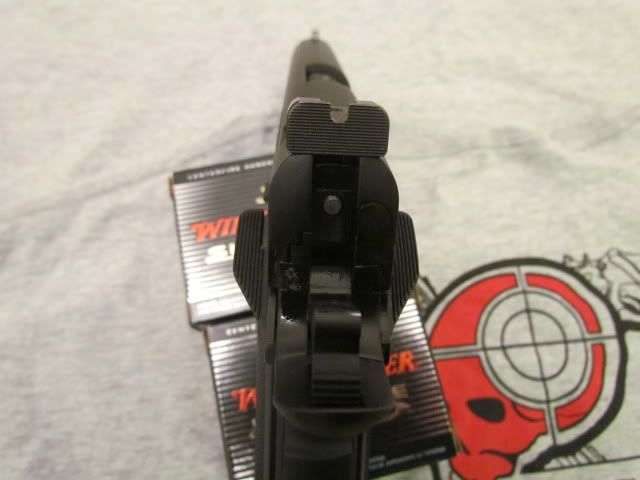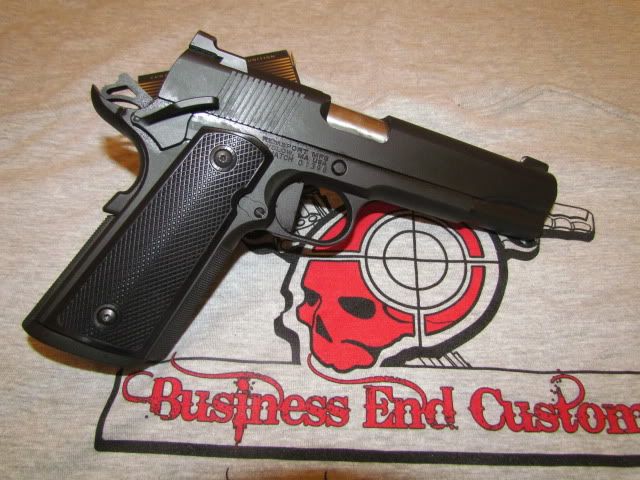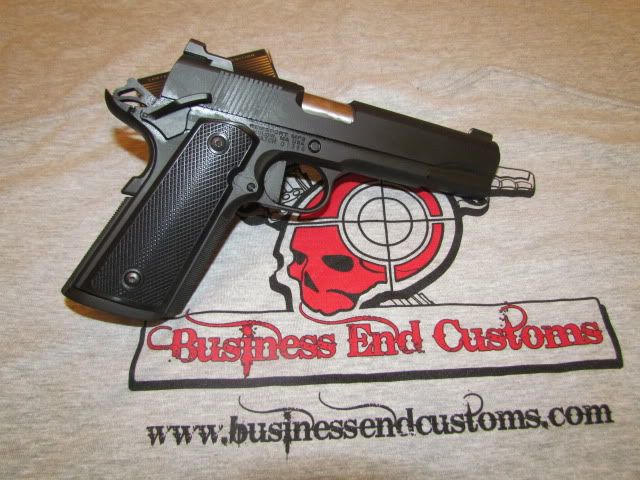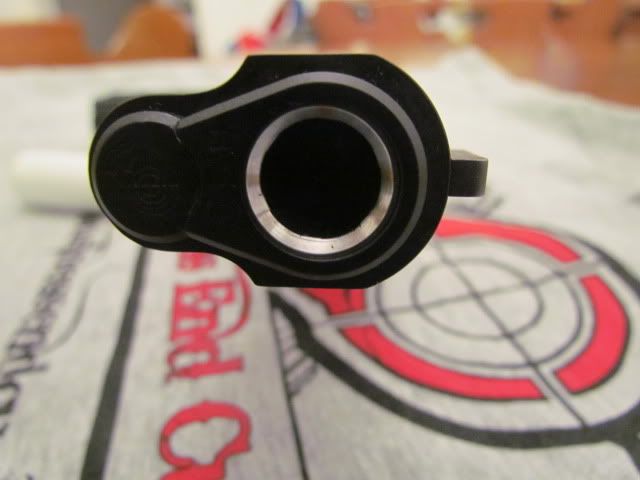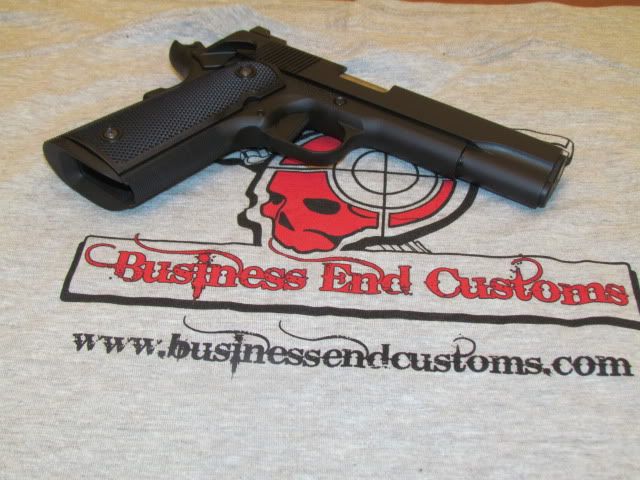 Here are a few pics of the results of the shooting... A few of these have some random off target shots from a friend shooting as well...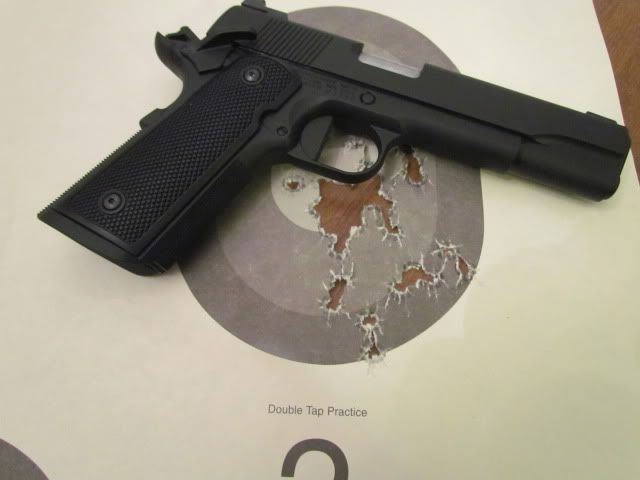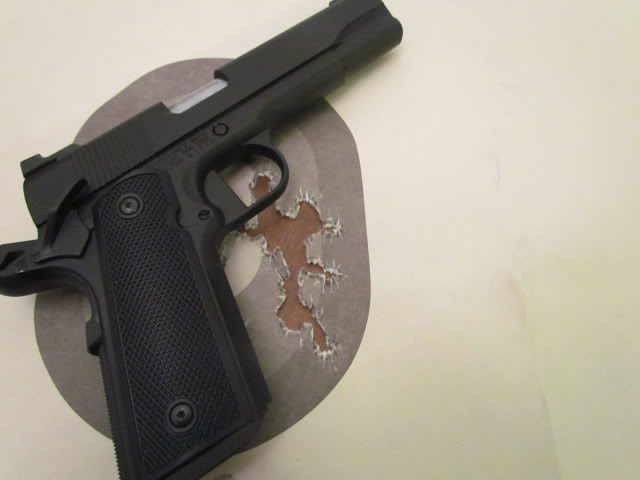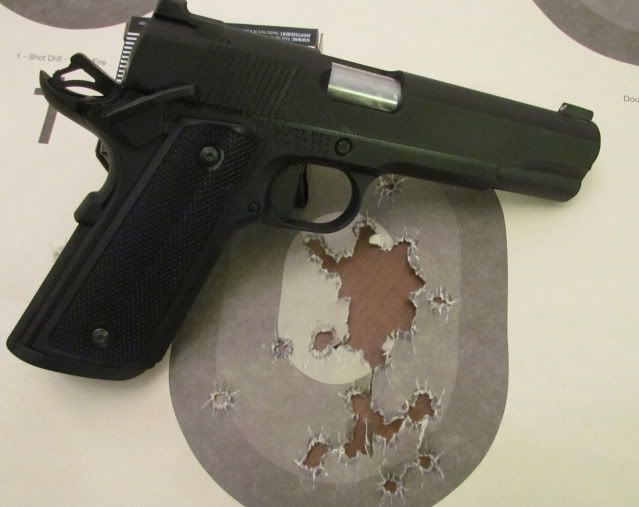 I couldn't be happier with the outcome of this build. This was my first full custom build and I am sorry I waited this long to get one! Lou was a pleasure to deal with. He answered every question I had, kept me update very well, and built one hell of a nice 1911 for me! If anyone is thinking of having a build done, I would highly recommend giving Lou a call. I can assure you that you won't be sorry.
Thanks for the hard work and amazing firearm Lou. I can't wait to start on the next project bro!