Discussion Starter
•
#1
•
Well, my FFL did anyway! LOL
I received my DW Guardian today. My initial thoughts when I was just handling it at the range were that this thing is put together nice! Very very great fit, and the finish seems very durable. After picking it up I ran to the range for a quick 100 rounds of WWB and a mag of Gold dots just to make sure it functioned right, and would be safe for carry.
I got to the range and decided to just run the rounds through it very quickly just to see how it would function. There was less than a second gap between shots. I was very very impressed with the reliability, durability, and accuracy of this firearm. This is probably if the nicest, one of the nice gun I have ever shot just right out of the box! It has already became my new daily carry choice!
Dave at DRC is a great guy to deal with. The service was great, and I couldn't have asked for a better transaction!
Now on to the pictures.
Pictures at the range. Remember these were very fast paced shots and there wasn't a single hiccup.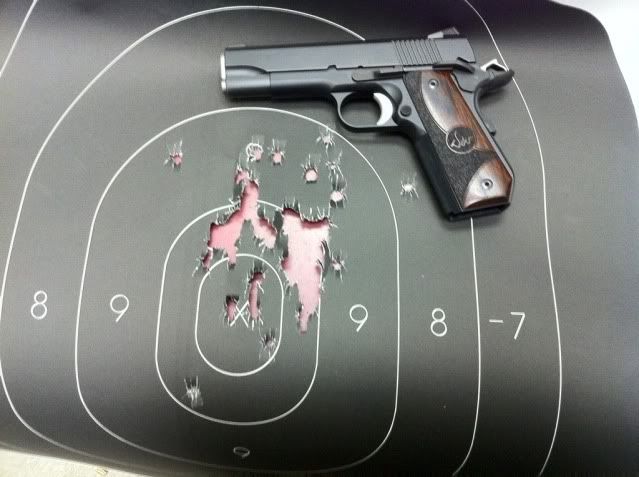 Here she is her new home, my C5 Montana carry rig. Of course she had to be dressed up with some kick butt VZ Grips!