Discussion Starter
·
#1
·
Terry Tussey was not your average Pistolsmith, and this little pistol is an intriguing peek into the man's genius.
The Tussey Junior, was Terry's brainchild to create an ultra light sub compact 1911 for deep carry and backup. Mr Clapp goes into detail nicely in this article...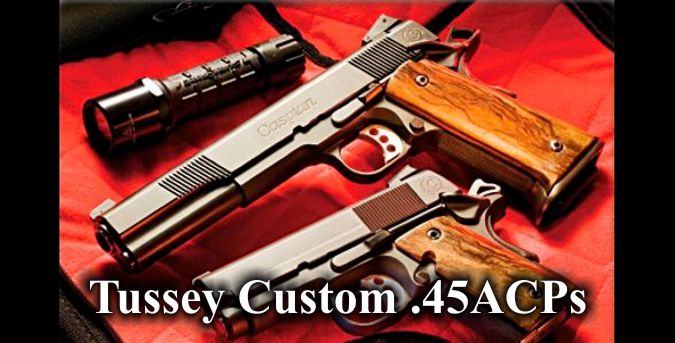 Two Tussey Custom .45ACPs are beauties that flaunt the top pistolsmith's craftmanship. These 1911's are sound tactical weapons and they're gorgeous!
www.tusseycustom.com
This gun will come with 2 frames, the original Detonics length, Titanium frame, and the Aluminum OACP Length frame the gun is currently assembled with. When built originally on the TI frame the gun went back to Tussey's shop for a feed issue with the client's preferred JHP ammo, the solution left the owner and the Smith to putting the Caspian officers frame under it. The added benefit was readily available mags, capacity and grip/checkering was a huge bonus IMO. SFS ignition parts make it great for pocket carry. Gun still tips my scale at a scant 19oz! Mountain of work to trim the fat out of this slide, there just are not guys doing this kind of craziness today!
Gun will ship as shown with Walnut and Carbon fiber grips, one Colt OACP mag, spare extractor, and the TI frame
I shot one mag of ball thru it just to say I did, and she is lively!
$2750 Shipped OBO