Of all the 1911s I own or have owned this ugly "old blaster" is the one I shoot the best. It was custom built by a local smith to me in 2004. I've posted about it before but after taking it out yesterday for a few rounds I just wanted to share again. This gun was gifted to me in 2012 by the widow of my best friend. He bought it new from the gunsmith in 2004. It's been carried a lot and shot even more lol.
It was built with Caspian frame and slide, Kart barrel/bushing, Koenig speed hammer, Brown ignition parts and safeties. The gunsmith is a former Army SF Sgt. Major and did the cerakote to reflect Army colors. I always thought it was kind of ugly lol but damn this thing shoots!! Also it has a series 80 safety system and I've surprised many experienced 1911 shooters that have shot it when I told them. At the time one of the major police departments in my area mandated series 80 style 1911s for officers wishing to carry them-don't know if that's still the case as all the guys I know have retired haha-so that was his reasoning for building this one that way. The finish is a bit more worn than it shows in the photo but I like it like that.
It's resting on my old High Noon Topless, a great holster I've owned a looong time.
Just wanted to share the ugly but fine blaster I'd choose if I could only have one.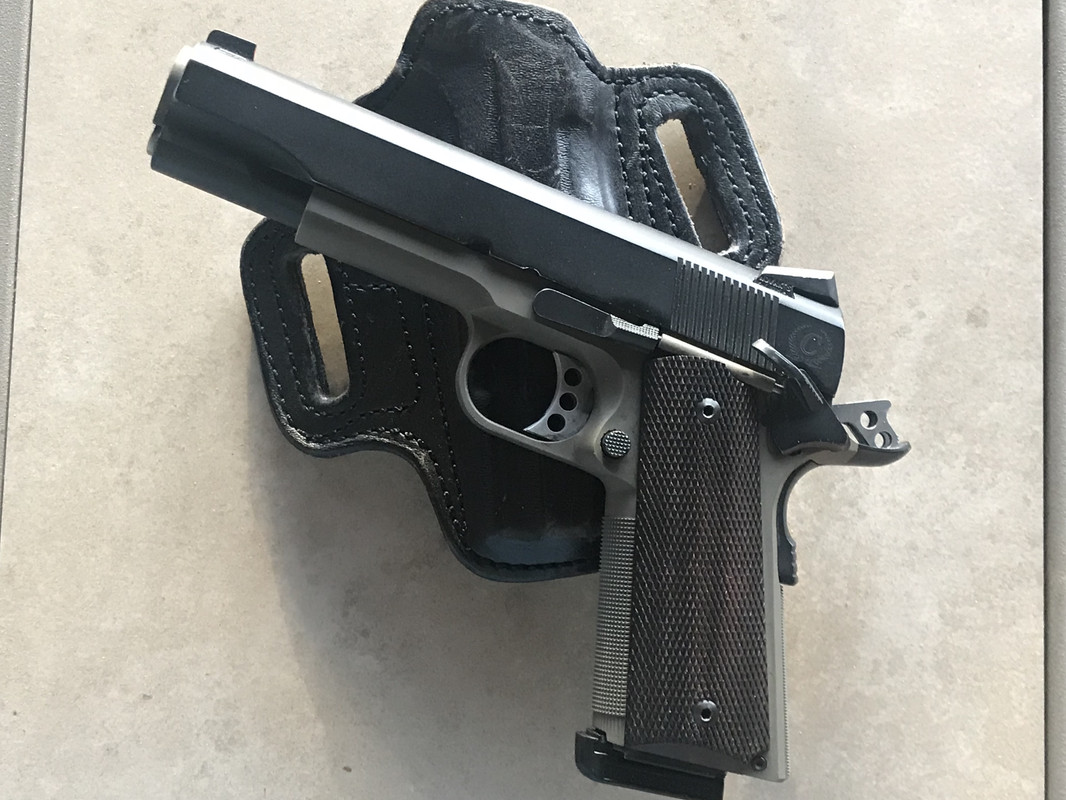 Here's the sight set-up I'm using on it-different than originals which were Novak 3 dot front/rear. This is an Ameriglo front night with orange ring and Novak Ghost rear. It's not only very fast but for me that orange really pops. Switched to these about 2 years ago.